In a word, the White House got punked.
Some Brit managed to infiltrate the email system, firing off incendiary emails while posing as Jared Kushner, Reince Priebus and Steve Bannon. Scaramucci fell for the bait.

The man, who goes by the Twitter handle @SINON_REBORN, posed as Jared Kushner well enough to convince homeland security adviser Tom Bossert to reply to him, according to CNN. Bossert included his personal email address in the exchange.

In a series of emails, the man posing as Priebus baited Scaramucci, accusing him of being "breathtakingly hypocritical" and saying "at no stage have you acted in a way that is remotely classy".

Scaramucci responded: "You know what you did. We all do. Even today. But rest assured we were prepared. A Man would apologize."

The heated exchange continued, with the prankster writing: "I can't believe you are questioning my ethics! The so called 'Mooch', who can't even manage his first week in the White House without leaving upset in his wake. I have nothing to apologize for."

Scaramucci replied: "Read Shakespeare. Particularly Othello. You are right there. My family is fine by the way and will thrive. I know what you did. No more replies from me."
The emails shine a light on the bear-baiting nature and incivility of the Trump White House. The prankster had no problem sending Scaramucci spinning into uncontrollable vulgarity that doomed his own political future.
Imagine if Scaramucci had simply taken one of the emails down to Priebus, sat down and asked what was going on? He didn't. Obviously there are warring camps in the West Wing each hunkered down behind walls.
Update -
The "email prankster" left this at
The Guardian.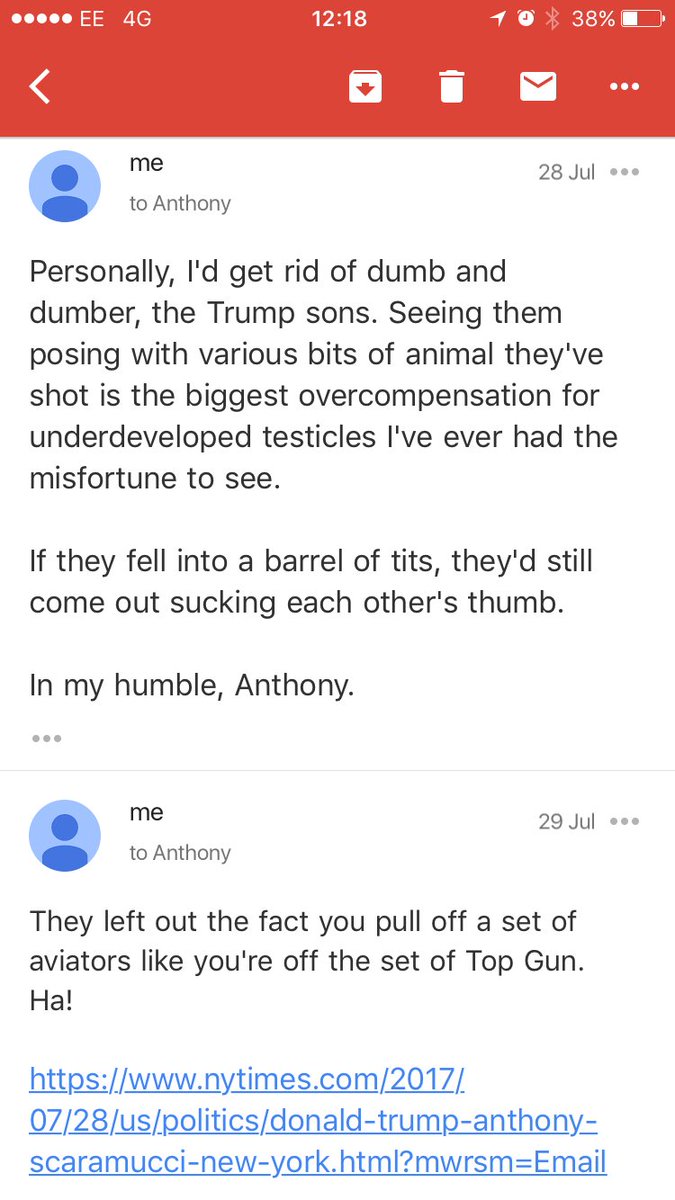 An excerpt of what I emailed to @Scaramucci whilst playing the part of Jon Huntsman Jr. Apparently this didn't seem out of the ordinary?!